Compact String Pot Celesco Model SP3
00020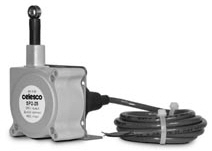 The SP3 from Celesco is a compact, economical stringpot that provides a user selectable 4-20 mA or 0-10 Vdc output signal. Simply install this sensor using the handy mounting bracket and connect the appropriate wires for the desired output.
The SP3 is constructed with a rugged, water resistant poly- carbonate body that has been compactly designed for tight spaces and generous measuring cable misalignment.

With 4 different ranges, the SP3 is a perfect solution for many applications from light industrial to OEM. Just like all of our other SP and SE models, the SP3 is in stock ready to ship.