Vishay Model 700 Portable Strain Gauge Welding & Soldering Unit
00126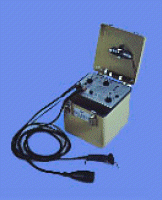 A battery-operated capacitive discharge spot welder for attaching and wiring weldable strain gauges and temperature sensors.
Separate visual and audible indicators monitor welder status. Weld energy is continuously adjustable from 3 to 50 joules, making the Model 700 an excellent choice for installing weldable strain gages and temperature sensors, as well as small thermocouples and light-gauge metal.
Supplied with a lightweight soldering pencil. A front-panel control adjusts soldering tip temperature for a wide range of soldering applications in the field or in the laboratory.
"Low-battery" light to warn the user when the internal, sealed lead-acid battery requires charging. A battery charger is included to provide for full battery charge with no danger of overcharging. Indicator lights monitor battery charge rate.
Convenient storage space for cables, battery charger and instruction manual.