Kistler Pressure Series
00344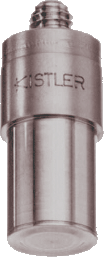 Pressure Transducers - Pressure Sensors
Piezoelectric & Piezoresistive

Quartz is the heart of Kistler piezoelectric pressure sensors. Its characteristics of long-term stability, high rigidity and strength, wide measuring range and wide temperature range make it the ideal sensing element for dynamic pressure sensors. Pressure measurements with ranges up to 150,000 psi, temperatures up to 660°F, rise times of 1 microsec, and resonant frequencies up to 500 kHz are all possible with Kistler piezoelectric pressure sensors.

While quartz-based pressure sensors are ideally suited for measuring dynamic events, they cannot perform truly static measurements. Although the electrical charge delivered under a static load can be registered, it cannot be stored for an indefinite period of time. For static measurements, highly insulated materials must be used in the sensor's cables and connectors to insure a maximum discharge time constant and optimal operation of the charge amplifier(i.e. minimal drift). Since quartz has a very high insulation resistance, short-term static pressure measurements are more feasible than with any other piezoelectric material. Quartz-based piezoelectric systems can routinely measure large pressures for minutes and perhaps even hours. Low level pressures can be measured "statically" for much shorter intervals. For this reason Kistler piezoelectric pressure sensors are often described as being "quasistatic."

PIEZOTRON® pressure sensors use the same quartz sensing element as standard (charge output) piezoelectric units and also include a miniature, built-in charge-to-voltage converter for low impedance voltage output. This allows the usage of general purpose cable in environments where moisture or contamination would be detrimental to the high insulation resistance required with high impedance sensors. PIEZOTRON pressure sensors generally have time constants long enough for calibration, but usually not long enough for static measurements. For this reason they are usually restricted to dynamic applications.

Kistler piezoresistive pressure sensors measure static and dynamic events with high accuracy and long-term stability. Kistler's comprehensive line includes general purpose, industrial and OEM sensors, along with specialty units for oil exploration, engine monitoring and liquid level sensing.

Kistler's sensors utilize three types of proven sensing elements:

(1) Oil filled silicon measuring cells
(2) Dry, high pressure/high temperature silicon SOI elements
(3) Ceramic sensors using thick film technology on a substrate.

The full scale pressure ranges cover 3 psi through 72,000 psi and temperatures from -50 to 570°F.

Piezoresistive transducers require constant current excitation provided by Kistler's signal conditions (refer to catalogue).

Piezoresistive transmitters require only voltage excitation for proper operation. Models are available in 2 or 3 wire configurations. Some versions not only provide pressure information, but can also measure temperature using appropriate Kistler amplifiers.

Request data bulletins or call us for complete details.