Kistler Acceleration Series
00342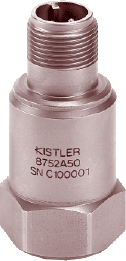 Kistler expands its sensor product lines to cover all acceleration applications

With over 2200 cataloged products, Kistler offers sensors across the entire acceleration spectrum. Not only have many new individual sensors and accessories been introduced in recent months, but a new family of eight ceramic shear sensors, featuring high output ceramic elements is now available.

Accelerometer Families:

K-SHEAR® - General purpose, shock and high vibration; high or low temperature versions.
PiezoBEAM® - Modal and structural analysis.
K-BEAM® - Seismic studies, large structure measurements, biomechanics and more.
K-GUARD® - Monitoring of rotating machinery.
Ceramic Shear - Multichannel, OEM sensors that run the gamut of industrial, test and measurement, R&D and OEM applications.

For a general overview of the comprehensive range of Kistler accelerometers, please request their well documented, easy to read catalogue, which provides comprehensive information on all Kistler products for the measurement of acceleration. Learn why many users are choosing Kistler for their Structural Testing, Automotive/Transportation, Environmental Stress, Screening, Aerospace and Military applications, Hot or Cold, Static to High Frequency.